Many months have passed since my first (and until now, only)
post
trying to connect George to a player in the C46 set. It's probably about time to try to link George to another, don't you think?
Our focus today, is the second card in the set, that of James McGinley. McGinley, who was born in Groveland, MA on October 2, 1878, had a professional playing career that spanned fourteen seasons. He spent parts of two seasons -- appearing in 4 games total -- in the major leagues, with the St. Louis Nationals.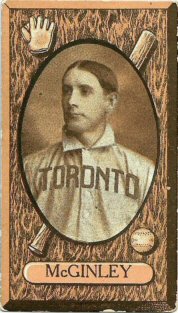 James McGinley's professional career began with the Haverhill Hustlers of the New England League in 1901. He remained with that club for 4 seasons, before being drafted by St. Louis in the summer of 1904. McGinley remained with Haverhill until the New England League season ended, and then joined St. Louis. He appeared in his first game on September 22, 1904. McGinley pitched the back half of a double header against the Boston Beaneaters, and came away with the complete game 4-2 victory. He pitched twice more in 1904, and ended the season with a 2-1 record. It was enough to get invited back for 1905.
The 1905 season for McGinley was short. He appeared in one game, against the Chicago Cubs on May 5th. He lasted three innings, gave up six runs, and was replaced in the fourth inning by Canadian Win Kellum. I'd love to find a connection from Gibson to Kellum and call it a day, but I don't have one, yet. So we'll keep going.
On May 10th, McGinley was released back to the New England League, and just like that, his big league career ended. Since George Gibson didn't debut in the majors until July, there was never a chance for the two to cross paths as players in 1905.
It is unclear where McGinley spent the rest of 1905, but in 1906 he joined Toronto of the Eastern League. McGinley remained with Toronto through 1911. It's very possible, even likely, that Gibson and McGinley crossed paths in 1911, when the Pirates played an Exhibition Game in Toronto late in the season, but it wasn't in the game. McGinley doesn't show up in the box score.
Even if McGinley wasn't at the game, or wasn't even still in Toronto (1911 was his last season with the Maple Leafs), it'd be easy to link Gibson to McGinley thorough one of the players that did appear in that game in 1911, but I thought I'd try to be a bit more creative.
When McGinley played in his final big league game in 1905, playing second base for the St. Louis club was Winfield, Kansas native Josh Clarke. If you know your Pirates history, then both the town Winfield, and the name Clarke will sound familiar. And they should. Josh Clarke, of Winfield, Kansas is the younger brother of Pirates Hall-of-Fame, and fellow Winfield, Kansas native Fred Clarke.
There you have it. Considering how long Fred Clarke and George Gibson played together, I'm sure Gibson crossed paths with Josh Clarke at some point, but for the sake of this exercise, connecting Gibson to McGinley through the Clarke brothers is more than sufficient. Plus, I don't know how many other chances I might get to work Josh into this blog.
Following his time in Toronto, McGinley played for Binghamton of the New York State League in 1913 and 1914, before returning to the Eastern League with Worcester for his final season in 1916. James McGinley passed away on September 20, 1961 in Haverhill, MA.
Thanks for reading.