A few months ago, I was looking at
C46
s, and
Ed Phelps
caught my attention. I've looked at so many cards in this set. I used to own over half of it, so I'm not sure why it took so long for me to make this connection, but it did: Ed Phelps. He caught for Pittsburgh while
George Gibson
was there. It made me wonder how many other guys in this set played with or against Mr. Gibson.
And so, here we are. A friendly spin on the whole "6 Degrees of Separation" thing, with a particular focus on connecting as many players in the C46 set, as possible, to George Gibson. Without any further ado, I present to you, C46 Degrees of Separation.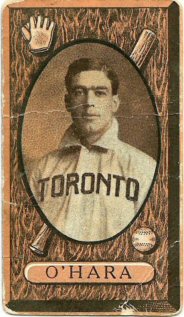 Up first, is the first man in the set.
Bill O'Hara
. A pretty excellent place to start, if I don't say so myself. If you know your
T206
s, then you're already thinking about the O'Hara St. Louis variation in that set, and maybe even know that he played only a few games with St. Louis in 1910, but played most of the 1909 season with the New York Giants. Well, did you also know that O'Hara is Canadian?
That's actually why his C46 is so great to me. It's Canadian through-and-through. O'Hara is also a pretty excellent place to start, because it should be easy to connect him to George. Bill's professional playing career started in 1902, and continued until 1915, at which point, he joined the war effort. When he returned from the war, he returned to Toronto and was involved with the club in a non-playing capacity. I don't actually know a lot about those years, but since Gibson managed in Toronto in 1919, it seems likely that they'd have crossed paths.
But I can do better than that. Bill played 14 games for Baltimore in the Eastern League in 1905, and George was with Montreal for part of 1905. There's a chance they crossed paths there, but I didn't look. In 1909. Bill played 115 games with New York of the National League, and George, of course, set his iron man record, appearing in 150 games with the Pirates.
That leaves us with 1910, while Bill is with St. Louis in the National League, and George is with Pittsburgh. According to baseball-reference, Bill appeared in 9 games with St. Louis in 1910. I have no reason not to believe that's true, and it sure explains the scarcity of that darn T206. So the question is, did St. Louis play Pittsburgh in any of those 9 games? As you've surely figured out by now, the answer is yes.
Opening day for both Pittsburgh and St. Louis, in 1910, occurred on April 14th at St. Louis. Pitching for St. Louis that day, was former Pirate, Vic Willis. In the bottom of the ninth, Willis' spot came up in the batting order, and he was lifted for a pinch hitter. And so, with Gibson behind the plate, and Howie Camnitz on the mound, none other than William A. O'Hara stepped to the plate. Gibson and Camnitz would work together to turn O'Hara into a strikeout victim, on their way to preserving a 5-1 lead, and an eventual Pirates win, which isn't a great story for O'Hara, but it does connect him to Gibson, right?
O'Hara would end the season in Toronto, playing 122 games there. He remained in Toronto for another 5 seasons, including 1912 when he batted 0.304 and helped his club to the first ever International League championship.
Thanks for reading,
Richard.